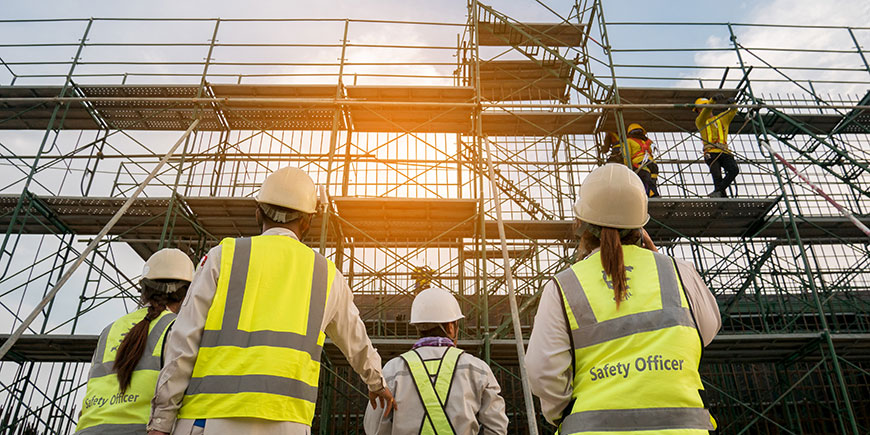 OSHA Requirements 1926.454
Employees who perform work while on a scaffold must be trained to recognize the hazards associated with the type of scaffold being used and to understand the procedures to control or minimize those hazards.
A scaffold is defined as any temporary elevated work platform (supported or suspended) and its supporting structure used for supporting employees, materials or both. Scaffolds history takes us back to Ancient Egypt where some of the most marvelous structures were erected such as the pyramids and statues. Early scaffolding was made of wood and secured with rope knots. In the 20th century we use metal tubes made from steel and aluminum. The main difference between the two is that steel tubes weight is about three times more than aluminum.
This course is designed to satisfy the training requirements of OSHA's new scaffold standard. It covers such risks as falls, falling objects, electrical hazards and access to and from the scaffold. In addition, you will be introduced to proper use of scaffolds, material handling, maximum loads for scaffolds and other requirements covered under OSHA.
This course is designed for employees who will be performing work from scaffolds, but will not be responsible for erecting or dismantling.
A written exam is administered to evaluate student retention of information. Successful candidates will receive a certificate upon completion. Revalidation is required as per industry demand.
The syllabus focuses on:
Differentiate between a scaffold user, scaffold builder and a competent person along with their responsibilities
State the procedure to properly secure a platform
Identify PPE, i.e., a personal fall arrest system, used by scaffold workers
State accident prevention measures
Identify the four different types of scaffolding
State the types of work that can be conducted on a scaffold
Identify unsafe scaffold hazards and/or practices such as overloading
Show familiarity with the OSHA regulations as they relate to scaffolding