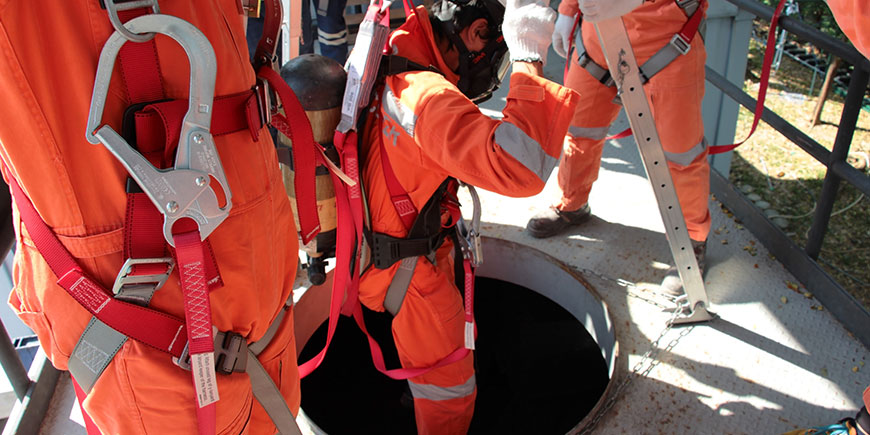 The Confined Space Rescue course is important because OSHA requires that employers who have permit spaces in their facilities in which employees will be working provide rescue and emergency services in case of an accident.
This course is designed to provide students with an introduction, pre-entry procedures, entry and rescue operations. Participants experience extensive hands-on exercises for removal and patient packaging.
The requirements to practice a permit space rescue in a controlled, simulated IDLH environment, students will be required to: • Respond to a rescue alert • Evaluate the emergency and determine the correct rescue method • Determine the atmospheric hazards • Utilize the appropriate PPE • Enter the confined space • Perform a rescue on an unconscious victim • Evaluate victim once outside and administer proper first aid until medical personnel arrive on scene
Confined Space Entrant Training
Any personnel who are requires to carry out work in confined spaces such as; Pits, Silos, Tanks…
Written Exam: Written and hands-on competency will be evaluated at the end of each course. Retraining: As required by company.
Upon completion of Confined Space Rescue training, the student will be familiar with:
• The use of PPE necessary for making rescues
• The use of retrieval systems used for rescue
• The entry permit system and the need to communicate the system for preparation, issuance, use, and cancellation of the entry permit
• The hazards encountered while performing a confined space rescue
• Respiratory protection and the use of SCBAs
• How to perform the assigned rescue duties; each member will have their own assigned duties
• Accidents common to confined spaces